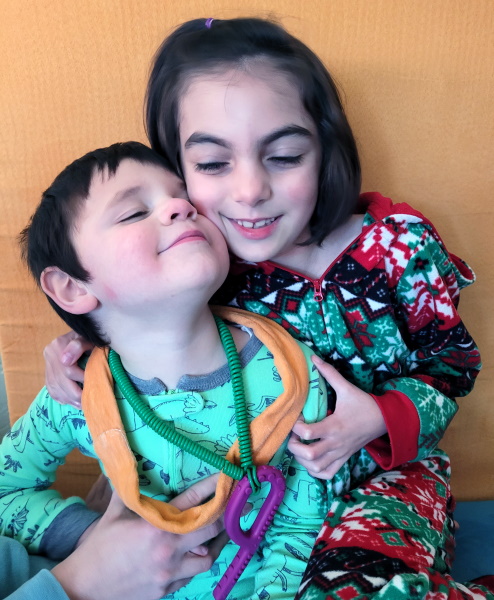 ---
Five years ago,  with only a few hours of labor, my son came into this world. He was bigger than his sister, quieter than his sister, and in that brief perfect moment that he entered this world, our family was complete.
On his first birthday, we had a big party, just like we had done for his sister. I jokingly would say it was to celebrate us as parents making it a year because, after all, "these kids will never remember their first birthdays." I remember that two days later, we went to the pediatrician, who prepared us that we were about the start a road of therapy that would aid in his slow progress and eventually help him catch his peers.
Most people will never know the pain of losing a child who is still alive.
I know he was born this way, but that moment the doctor handed him to me, that perfect moment when our family was complete, I thought he was as well. My baby with his ten perfect fingers, and his ten perfect toes, who has his momma's eyes and his daddy's laid back personality, was always this person you might argue. And you are right.
For his second birthday, things were very different from the first. There was no big party because we had just moved to our new home, over 750 miles away from our friends and most of our family the day prior. Here we were, just two weeks after getting his Phelan-McDermid syndrome diagnosis, I didn't know what the future held for my son. I was still in shock, but I went and picked up the cake. It was the first time I was alone in weeks. Tears silently ran down my face that car ride, and when I arrived back with the cake, we celebrated him surrounded by the only family we did have in the area. I was in a haze, terrified of the unknown.
I had hopes, dreams, and ambitions of what motherhood would bring. None of them were to have a son with special needs who will possibly never know what it means to be the birthday boy. None were to change the diapers of a growing boy who will someday be a young man who will still need diapers. Birthdays are reminders that he is growing, aging, getting stronger, and I am less equipped to be his caregiver by each inch.
I planned to do nothing on his third birthday. Why? Because nine months prior, we had our first regression of skills. He lost his sign language, ability to feed himself, his ability to focus and interact with or use toys, climb steps, but mostly, he became difficult to handle. He would bite, kick, and pulled hair so much, my spirit as his mother was fading. But family intervened, asking, "won't you regret it?" They didn't say it to make me feel guilty, but it did the trick, and I threw a small party for a child who had regressed to the point of not knowing his name, and I questioned if he knew I was his mother anymore.
For his fourth birthday, I thought, "this is the year I get a break," as the pandemic had just hit us. But, his big sister insisted we make him feel special regardless. I mustered up the strength deep within me because I would never want to let her down. I knew he had no idea it was a birthday, let alone his. Beaten down by yet another move just a few months earlier, this time with no friends or family, and now the pressures of a pandemic, I felt like a fraud of a mother. By the end of the day, I was relieved to put him to bed as I was confident at this point in my earlier thought. He didn't know I was his mother.
So now it's his fifth birthday. Two weeks ago, I realized I hadn't bought him a present, made a plan, thought of anything. I was so focused on Easter, and I had forgotten entirely – probably subconsciously as I had started to call him five in school meetings and with doctors. But I pulled myself together, made a special menu, and in an odd burst of excitement and pride, asked, "guys, guess what special dinner I'm making (for my son)?" Adding a hint, "it was one of his favorites, and we haven't had it for a while," to which no one could even guess.
Had I thought up the wrong meal? The questions crossed my mind, and with that, it spiraled.
My son is turning five, and he can't tell me what he wants for breakfast, lunch, or dinner. He can't tell me what kind of cake he wants. He can't tell me what toy he wants or if we should go to a zoo or a park for his birthday. My son can't run into our room excited it's his birthday… he won't even know it's his birthday.
Now let me tell you what my son will do. He will still go to the bathroom in a diaper. He will still need someone to help him eat and drink. He will still need a medical stroller, and he won't say a word, as he has none.
So, I try to see gratitude in my state of grief. My son is healthy and happy, I tell myself. Then it happens again. I spiral and think, "happy and healthy?!" I remember thinking that was all I wanted as he was still tucked safely inside my womb, and how now that is what I have. I can't appreciate it because I had no idea what I was asking for in my naïve youth.
Birthdays are important because we make them important. Looking back at every birthday, they were all in one way or another for me. First birthday, celebrating we made it. Second birthday, because we needed to celebrate to show we could push through this diagnosis. The third birthday, because people worried, I might regret not doing anything, and with the guilt I did it. Fourth birthday, because I didn't want to let my daughter down. Now the fifth…the fifth, who was that for? It isn't for my son. It doesn't feel like it's for me anymore. If anything, it hurts me so much that I instead dream that I could lie in bed crying the entire day, never leaving my room, and never even looking at my family, so they can't see how broken I have become. Why would I even consider something so painful?
Then it hit me. It's all for my family, most specifically my daughter, and for the sake of offering one "normal" thing about her brother. The realization of normalcy, in this case, is that this is normal for my daughter. The person whom it isn't normal for is me.
So, I struggle, but I don't give up. I can say, with certainty, he does know I am an important part of his life right now. I don't know if he knows I'm his mother, but he knows I'm important to him, and that is something I can be grateful for this year.
I hope to have gratitude for April 2nd again. Maybe not this birthday, maybe never on his birthday. I don't need to know this answer right now. I need to know I won't give up, and be honest with myself and the world, that this is the most challenging day of the year for me.
So, there is gratitude in my grief that I get to struggle and can learn from my children. And that there is still the hope that I can love this day in the future, as I did the day he was born.