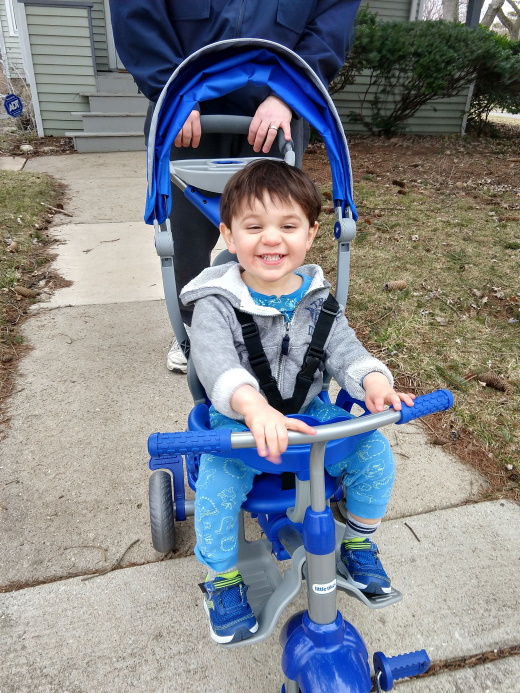 ---
When we first got married and were looking for our first house, I told my husband I only wanted to live in a downtown area. I love the ability to walk to the train station, go to shops, walk to dinner, basically enjoy where I live. For our first and second homes, this was the case. But, after getting our son's diagnosis (insert link to diagnosis story), we realized that he might not just grow into our home.
When I was younger, I would say the suburbs were the equivalent of a minivan for me. They were something that many families need but something I did not want. Some would fight the purchase, then ultimately fall in love and tell me how great their minivan was, how they loved their larger house in the suburbs with a yard and how I would regret not getting one sooner.
I was willing to live with that regret.
Then it happened. With this last move, the ability to move downtown would prove very difficult. The cost would be exorbitant, the amount of space would be horrible, not to mention the handicap accessibility was not looking favorable. As the kids and I stayed back in the midwest, my husband looked for the best option, but he couldn't do it. He could not meet my list of requirements for relocation, and it was the first move that I said, "it's okay, just get the minivan," knowing it was the best option for our family.
Life is unfair. People told me I wouldn't have to give up anything to have my children. But here I was, moving to the suburbs, kicking and screaming from Chicago's freezing temperatures to sunny California. I felt like a brat.
But then reality really hit hard. My 10-year-old Mazda was getting more challenging for our family. My son can barely fit behind the driver's side with his orthotics and specialty car seat. He can't get in and out without an adult lifting him in and out, and he isn't able to help even if he wanted. "But I don't want a minivan," I would throw my head back as a look of sadness washed over my face and brattiness toned through my voice. "I'm tired of giving up everything I want," my little temper tantrum would continue until I would ignore that I have a problem and walk away from the conversation with no resolution.
Until a few weeks ago, when the car started to make an unpleasant sound every time I began to make a right turn. The sinking feeling washed over me that I would have to look at buying a new vehicle and a sadness then took over, that yes, again, I would have to give up something for my family and really get the minivan this time.
Now, the reality is many people LOVE their minivans. They go on and on about, "how great they are," and how they, "wished they hadn't waited," and so much more. But the minivan is more of a symbol to me than the actual vehicle. It's the symbol of yet another thing I have lost that I never expected.
Had my son the ability to get in and out of a vehicle, I would never choose a minivan. If my son could safely navigate his surroundings, we would be living in a downtown area even though the cost was more than we would like. But the reality is that this is our reality, and we will make sacrifices we never planned to make.
I'm not saying there is anything wrong with minivans or the suburbs because I honestly love where we live in many ways. I am speaking to my life taking a turn it would never have if our situation wasn't this.
This – sounds naïve, but it's an example of how special needs families have to make choices all of the time. Even something as simple as where we can live. What school is best because we have a child who will need extra supports. And now, what car we have to get because we need to place a child in a seat who may never be able to get into their car seat or do their seatbelt without assistance.
So as I try to shake off my entitled brattiness and realize how fortunate I am that I can even purchase a vehicle, I also want to put out in the world that I "get it" that this isn't what you want. No matter if it's nice. No matter if it's the best version. I know this isn't the dream you had when you started a family, I get it.