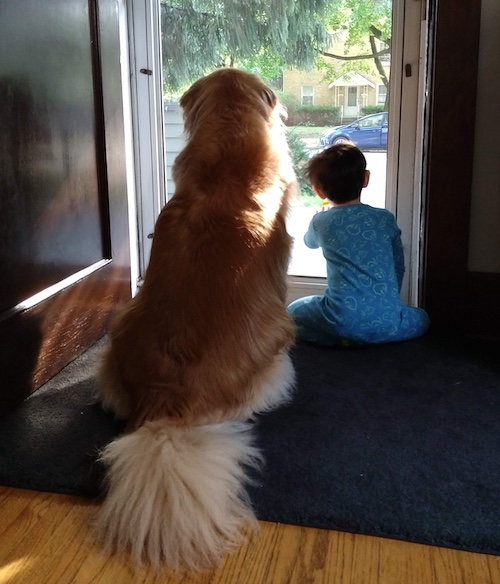 ---
When we got the diagnosis of Phelan-McDermid Syndrome for my son, we were shocked. Our hearts sank, the mourning period began, and we realized that every expectation we had for our son was gone. As if overnight, all I could see was a never-ending list of therapies, doctors' appointments, paperwork, and realizing it would never end. It felt defeating as a horrible battle between my brain and my heart began. So overcome with grief, I could not see clearly at all. I knew I needed help. I knew things could get better emotionally for me. I didn't know what I needed to be the best mother I could be, so I looked for help.
Except that isn't exactly what happened at all. When we got our diagnosis, my husband stayed up night and day those first few days reading about Phelan-McDermid syndrome (PMS). I went to sleep every night as before. During the days, I reached out to everyone I could, went to the doctors' appointments, worked, and started to pack because we were moving 12 hours away in just two weeks, and someone had to pack. My husband was digesting everything he was reading, so he was unable to do much but process. I didn't have the time or energy to deal with the diagnosis because I needed to continue to parent and get us moved.
In the 24 hours leading up to the move, he finally woke up to realize I was taking care of the children while packing the entire house, and I was never going to finish. Like a guardian angel, my brother-in-law was able to get us help, and without him, that move would have never happened. I will always remember that.
Now I was becoming sleep-deprived. Between the move, reading all night about my son's possible future, and trying to schedule all the appointments and obligations of a child with his needs, and let's not forget parenting two energetic children, I was getting tired. Then I watched my son have his first regression. Breaking on the inside in a way worse than the day we got the diagnosis, I still wasn't prepared to acknowledge my feelings honestly. He lost so many skills we took for granted, and a piece of me died as I felt I lost my son again. First, I lost the child I thought he would be, the man he could have grown to become, but this was different. It wasn't the day I heard the words, Phelan-McDermid Syndrome (PMS), that his future "died" for me… it wasn't even this point yet. I reasoned the diagnosis changed nothing. After all, this was who he was, but when I "lost" that piece, who he was, I was starting to crumble.
My husband is great at adapting in ways I am not. In the beginning, my optimism was what we all needed, but looking back, it was probably ill-prepared and naïve as I was not looking at anything but the moment. When something "bad" would happen, my husband was not surprised, shocked, or upset by it as I was… because he was expecting it. Here we were, months and months passing, and I was still getting services, therapists, doctors, tests lined up and checked off the never-ending list, that it never occurred to me that our son could regress, and even when he did, it was all in slow motion.
The last straw was the testing for Autism Spectrum Disorder (ASD). PMS has links to ASD, something I was told repeatedly by doctors, educators, and therapists he would never have. Previous to his regression, that was true because he was so loving, had excellent eye contact, and just didn't "fit the profile," but when the results of the testing came back, I read them, and I finally broke all the way. Reading about how you interact with your child on a medically written text report can be difficult. I had no idea it would be that hard. The clinician told us we were getting the diagnosis. It wasn't a shock, but reading it, that's another story. It has been almost two years, and I still can't go back and read it.
It set me in such a tailspin I officially started drinking as soon as we arrived at my in-laws that next day and ruined Thanksgiving. I don't think anyone ever knew why, specifically, that I finally lost it. If I told them I got a report about how my son interacts with me, I don't know they would have understood it was more than that. It was everything. It felt like I lost my son over and over in just a few months. First, a diagnosis. Then a regression. Next, a second diagnosis with documentation reiterating that he was not the loving, sweet boy he was just six months earlier. He was not the same child when he got the first diagnosis.
Was this my fate? A child who couldn't hug. A child who couldn't kiss. A child who doesn't know his name. A child who walks into walls bangs his head on tables and floors, walks into windows, can't do steps, can't feed himself. To be a caregiver to a child who doesn't know I am his mother?
I'm not embarrassed that I broke. I'm ashamed that I didn't have the strength to stay home, cry, or ask for help. I think everyone knew I wasn't myself, but no one knew how or what could help. I am not the same person I was previous to the diagnosis. People couldn't understand why I would still be upset when the original diagnosis was so many months prior, but I don't think anyone understands the feeling until they live it.
Here we are, over two years later, and I still feel sick to my stomach when I think about it all. It is emotionally draining to relive the loss of the child you once expected you had, and not everyone knows that feeling, thankfully. I don't want other people to understand my pain. I want them to respect it.
Let me cry, listen, support that we will get a new diagnosis as he gets older, and respect each one will be hard. Some people will try their best, or some won't try at all to understand our pain. Don't worry about them. Worry about you. I wish I had realized that sooner.