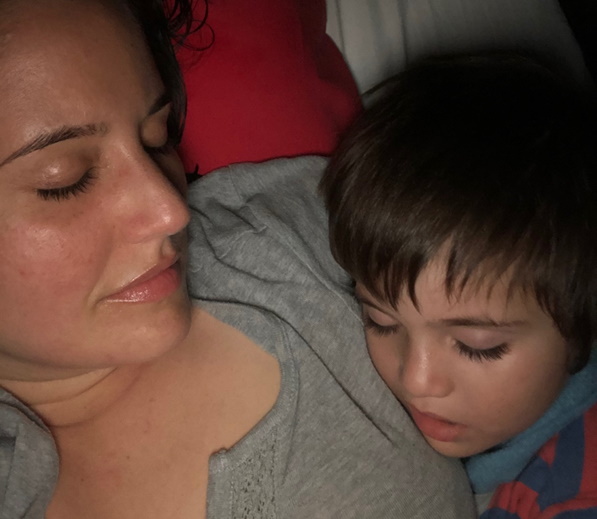 ---
I used to joke that I had no idea how to wean a child without being pregnant with another one.
Our oldest was nearly two when, in the second trimester with his younger brother, my body shifted its focus to the baby. My milk supply dwindled, and my son lost interest. It worked out brilliantly, without requiring me to take a tough stand. This was especially a relief because we have always called breastfeeding "boobies," and our oldest was an early talker, fully capable of declaring loudly and articulately, "I want boobies!"
About halfway through my third pregnancy, our then two-year-old middle son was still going strong with the breastfeeding. He was a slow talker, so he didn't make public, clear demands for "boobies," although he had begun an embarrassing practice of lifting up my shirt to try to gain access. But, as before, my body shifted its focus away from milk quality. Despite his limited vocabulary, he declared one day that the milk was "yucky" – and thus, yet again, I was spared the difficult task of ending the breastfeeding.
With this in mind, I always knew our last child might pose a challenge with weaning; though I had no idea how difficult the situation would prove to be.
Asa just turned five, and he is still a big fan of the boobies. At this point, he only nurses at bedtime, and occasionally for comfort. You might think I should have cut him off by now, but it is a rather complex issue:
It's hard to tease out Asa's intellectual disability from his autism and from his receptive language deficits, but he is around 12 months old cognitively and developmentally. In fact, in some ways he is even younger. By their first birthday, I think most babies are better than Asa at understanding "no," and "all gone," and other such concepts necessary to comprehend that something they like is going away.
A handful of times, my husband has taken Asa to his parents' house for the weekend, while I have stayed home. Each time, we think maybe Asa will forget about the boobies, but each time he returns, Asa seeks them out yet again. He struggles to learn nearly any new skill, but he never forgets about the boobies.
I have asked for advice in special needs parent support groups, but it seems like most children as severely impaired as Asa never were able to breastfeed, as infants, due to hypotonia—or they weaned on their own, or they forced their mothers to stop due to biting. So far, at least, I haven't found anyone else dealing with this particular problem. Perhaps they just aren't talking about it, because it is a rather awkward situation!
To be perfectly honest, another component of the situation comes from me.
Hyperactivity is one of Asa's challenges: he is usually loud, erratic, and moving nonstop. But when he snuggles up to me—inevitably wanting boobies—he is calm, at least for a moment, and sometimes for longer. It is so nice just to be still with Asa in this way, because he does not sit by my side to read a book or watch a movie; he doesn't lay in bed and ask me serious little boy questions before I kiss him goodnight.
If Asa is feeling anxious, or if his brain wakes him at 3:00am due to his sleep disorder, he can rarely understand any words of reassurance; but, like a baby, he can be calmed by the source of comfort that has always soothed him.
Our nursing snuggles are also one of the very few deliberate signs of affection I receive from Asa, so it's really hard for me to conceive of actively rejecting them. After all, I could never imagine telling my typical children, "That's it! No more hugs ever."
Most heart-wrenchingly, there's this:
In March 2018, we had Asa's enlarged tonsils and adenoids removed, under the idea they were contributing to his terrible sleep problems (which I am sure I will write about eventually).
In the days before that surgery, Asa spoke the only two consecutive words he has ever spoken, and he did it a few times. He said: "more boobies."
It sounded like "muh muh buh buh," but it was intentional. He said it in context. He said it looking directly into my eyes.
I was on cloud nine. Things were coming together: Asa was finally, at nearly three years old, starting to talk. His therapists thought he might actually lose his Autism diagnosis. We were going to do a surgery that was going to make all of us sleep better. Hard-fought progress was happening.
For a week after his surgery, Asa was silent. That's okay, we thought; his throat probably hurts.
Then he began to withdraw. He was anxious all the time: he had to be held or secured in a stroller or chair at all times, or else he would run around crying, in a panic. His sleep was as interrupted as ever. A great many of his therapeutic successes disappeared overnight.
We sought remedies far and wide. We only succeeded in addressing his anxiety: everything else was lost.
And in the midst of all this despair and confusion, we received the fateful phone call that changed our lives forever: Asa had a severe genetic disorder called Phelan-McDermid Syndrome.
We learned that this disorder is known for causing sleep irregularities and was certainly the cause of Asa's sleep challenges, which explained the meager improvement from the surgery. And we learned that people with this disorder are particularly susceptible to repeated regressions, sometimes triggered by illness, or by trauma… like surgery.
Asa's big regression may have been inevitable. But still, I can't help but think that by choosing to do the surgery, we took away his voice; a voice that had only ever said to me one phrase: "more boobies."
How can I give up on my little boy, by removing from his life the only thing that ever mattered so much to him, that he overcame all his challenges to say it?
I know we can't continue like this forever. But for now, I just can't take it away from him.